Discover the textiles featured in Artful.
Claire Hunter (Taffled Threads)
"I am a handwoven textile designer passionate about telling a story though cloth.
Using natural fibres, my work consists of contemporary tartan designs and limited edition fabrics that are woven into scarves or blankets or turned into decorative and functional items.
Woven in small production runs I strive to produce high quality handcrafted items that reflect the traditions of Scotland's weaving heritage.
A graduate of the Scottish College of Textiles and with over ten years' experience within the Scottish textiles industry, I try to push the boundaries of the loom to explore the possibilities of the twill structure to create a variety of designs from the textured to the geometric block twills using my sixteen-shaft loom.
Bringing a story to life through a handwoven fabric is a truly wonderful experience.
All tartans are officially registered with the Scottish Tartans Register and can only be woven by Taffled threads."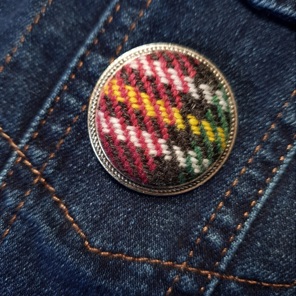 Lorna Brown (Blessed Unrest)
Blessed Unrest's range of interior textiles and products make an immediate impact. The complex and skilled layering of imagery and considered colour palette work together to express a bold, maverick style.
'My work is all about the process of printing no matter what surface I am working onto. I love to work with groups of selected imagery usually hand drawn and photographic, very often expressive mark making and textural gestures. Layering is at the heart of my creative process and I work intuitively with the imagery creating abstract artworks that translate beautifully across many products. The colour palette along with the transparency and opaque quality of the printing ink gives me control over which areas of the print are seen or covered up. The unpredictable element in this working method is what really inspires me'.
Blessed Unrest designs have versatility and translate too many light and heavier weight fabrics as well as wood, paper and ceramics. The textiles are printed using water based inks, British sourced materials, using micro manufacturing processes at her Edinburgh design studio. These abstract, surface patterns and textiles introduce a splash of self-expression and individuality to you and your home decor.
Lorna runs a rolling program of day, weekend and evening classes from beginner right through to more advanced levels.  Classes can be a 'one off' learning experience or a progression route to more advanced skills and creative practice. The classes are skills based, product based, theme based or a combination depending on the customer, and learning outcome. She offers inductions to the print space and works with individual textile artists/ designers to explore and expand their own practice.