Discover the jewellers exhibiting at Artful

Laura Grace Caldwell
Contemporary Polymer Clay jewellery designed to make you feel fabulous.
Designer Laura Grace Caldwell creates jewellery to make you feel fabulous. Laura's bold, dramatic & colourful designs are handcrafted from her studio in the east end of Glasgow.
Laura's background in theatre design greatly influences her work and carries through her styling, photography & designs. Drawing inspiration from her Scottish surroundings, Laura works with silver and polymer clay to create unique and one off designs for statement wear or the everyday wear.
Laura began her training at the Central Scotland School of Jewellery in Dunblane and is currently studying Jewellery and Arts technology at City of Glasgow College. Her work is stocked in shops & galleries throughout Scotland.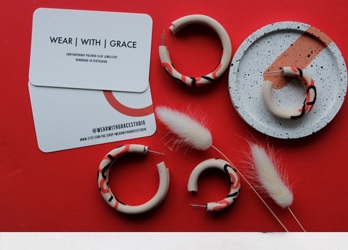 Caroline Brogden
Coastal inspired jewellery hand-carved from waste and surplus resin left over from custom surfboard production; this material is known as 'Surfite'. This is often combined with elements of recycled precious metals to add contrast and form.
By taking a material-led approach to her latest work Caroline seeks to create conversations not only around sustainability, and circular design but the beauty in an otherwise discarded material. By hand carving and shaping the resin into beautiful coastal inspired shapes she draws the wearer and observer alike away from thoughts of the material being disposable and superfluous, and towards the idea of 'waste' materials having their own story, beauty and rarity.

Michele Daykin
Michele is a contemporary jeweller who combines silver and her own batik fabric. Inspired by the urban environment Michele has always been fascinated with textures and marks found on walls, pavements, and surfaces. Having initially studied stitched textiles; Michele then went on to study silversmithing and jewellery.
The "Urban Surface" collection is inspired by the urban environment; textures and shapes of the stonework and concrete world we live in; and draws on the marks and textures created over time through decay and age. The irregular shapes of her jewellery have evolved from urban stonework.  The collection includes a range of wearable pieces: earrings, pendants, cufflinks and brooches. Michele's colour palette is drawn from her
inspiration.