Samantha Reid (Braw Bumble)
Braw Bumble is an art brand created and run by Samantha Reid.
"I am an independent artist living and working in Stirling. I created Braw Bumble in late 2020 to provide an outlet for my nature inspired designs, focussing on an eco-conscious product range with fun watercolour designs. I work primarily in watercolour and fine line pen to create my illustration style, often playing with line weight to add emphasis and delicacy to my work. My greetings cards are printed on recycled card stock from UK suppliers and packaged in recyclable packaging."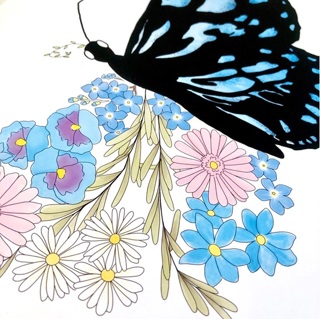 Esther Kent
Esther is an illustrator, author and designer living in Kinross. Graduating with a first in illustration and printmaking from Duncan of Jordanstone, Esther studied publishing before shaping a career managing arts events and projects. She returned to making artwork six years ago, while raising small children. Drawing together her love of narrative imagery, colour and pattern, Esther uses a variety of mark-making techniques to create illustrations full of movement and emotion. Often inspired by childhood memories and the quirky imaginative world little people live in, her illustrations decorate homewares and 3D paper mobiles, joyful prints and original works on paper. Her first children's picture book is 'Molly's Circus'.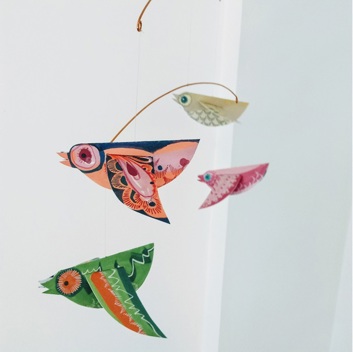 Julie Campbell
"I love spending time exploring our wonderful Scottish countryside - seeking out wild spaces to gather sketches, photos and wildlife records to inform my work.
My illustrations start with a mix of rough and detailed pencil sketches, then I work digitally. My finished works are rendered with bold lines, and a carefully chosen select palette of colours.
These illustrations are then turned into prints, accessories, cards and homeware.
This exhibition includes my wildlife cards and wooden pins, featuring some of my favourite Scottish wildlife, and 'Nature Notes' – my family friendly wildlife journal, for recording wildlife while on your own adventures."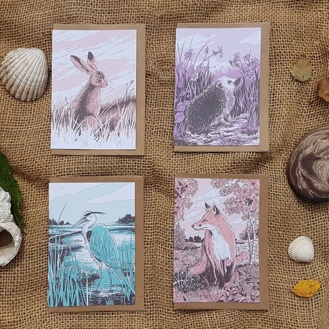 Linda Farquharson
Linda Farquharson is based in Perthshire. She is a graduate of the Duncan of Jordanstone College of Art in Dundee. Linda makes prints using lino and wood block and she frequently produces reduction prints where the original block is reduced for each colour, resulting in a destroyed block at the end.