The Hub is situated in the Health & Fitness area at the Mariner Centre. Offering a gentle form of exercise, relaxation and socialising, it's ideal for those living with long term health problems, who are new to exercise or are deconditioned. Adjustable footplates and support straps enable access for people with movement restriction. Our 12 power assisted exercise machines support all fitness levels.  Watch our inspiring customer stories video to see more.
If you have any of the following, Shapemaster could help with your exercise programme:
a Neurological condition
Cardio-respiratory disease
Back pain
Fibromyalgia
Arthritis
Diabetes
Depression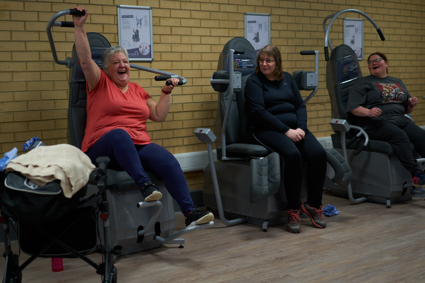 The power-assisted machines are from Shapemaster, who have an international reputation based on over 30 years of engineering knowledge and excellence. Its passive exercise machines use an electronic power system that enables users to work passively or actively, depending on their ability.  Within the Hub there are both seated and recumbent pieces of equipment.
"Unlike conventional exercise equipment, Shapemaster does not rely exclusively on muscle power but by an electronic power system enabling users to work passively or actively, depending on their ability. As the user does not have to provide the motive force, they do not have to overcome inertia in order to use the equipment, so it is a perfect choice for anyone coming back to exercise after long periods of rest or inactivity, including older adults or those with limited mobility." - Shapemaster
If you'd like to find out more about Shapemaster fill in the form on our contact us page, or speak to a member of our Active Forth Team on 01324 503750.  Monthly membership and Pay As You Go available.  The Hub is open Monday - Friday, 9am - 1.00pm.