Arts 03 May 2023
Falkirk: By Robin McKelvie
When I told a friend from London I was going back to Falkirk his first question was "where is that?". My answer was simple – "Falkirk is at the heart of everything".
The town really is, halfway between Scotland's two biggest cities, the cradle of Scotland's Industrial Revolution, the site of two of our most pivotal battles and a brilliant place to visit that is alive with a flurry of Scotland's top tourist attractions.
I kicked off my exploration where the Union Canal (thanks for the ride Linlithgow Union Canal Society) abruptly halts high above Falkirk. Peering down at the basin below 28m below I can only imagine what went through the minds of the engineers tasked with somehow ferrying boats safely down. The solution was brilliant. And unique, for the Falkirk Wheel is the world's only rotating boat lift, a marvel that ties back into the town's role in kickstarting the Industrial Revolution with its nous and creativity.
I leave the LUCS guys in the basin reluctantly after a glorious sail here accompanied too by Stewart Douglas, the Falkirk born and bred lead singer of emerging Scottish band Wrest. He serenades our arrival into his hometown with his quite wonderful music and enthuses, "Falkirk has so much for visitors, you never get bored and there is starting to be a real buzz about the town these days." We chat more over a lunch at the Falkirk Wheel café, which is awash with fresh Scottish produce. With more bigging up the town from proud Stewart I'm keen to explore Falkirk.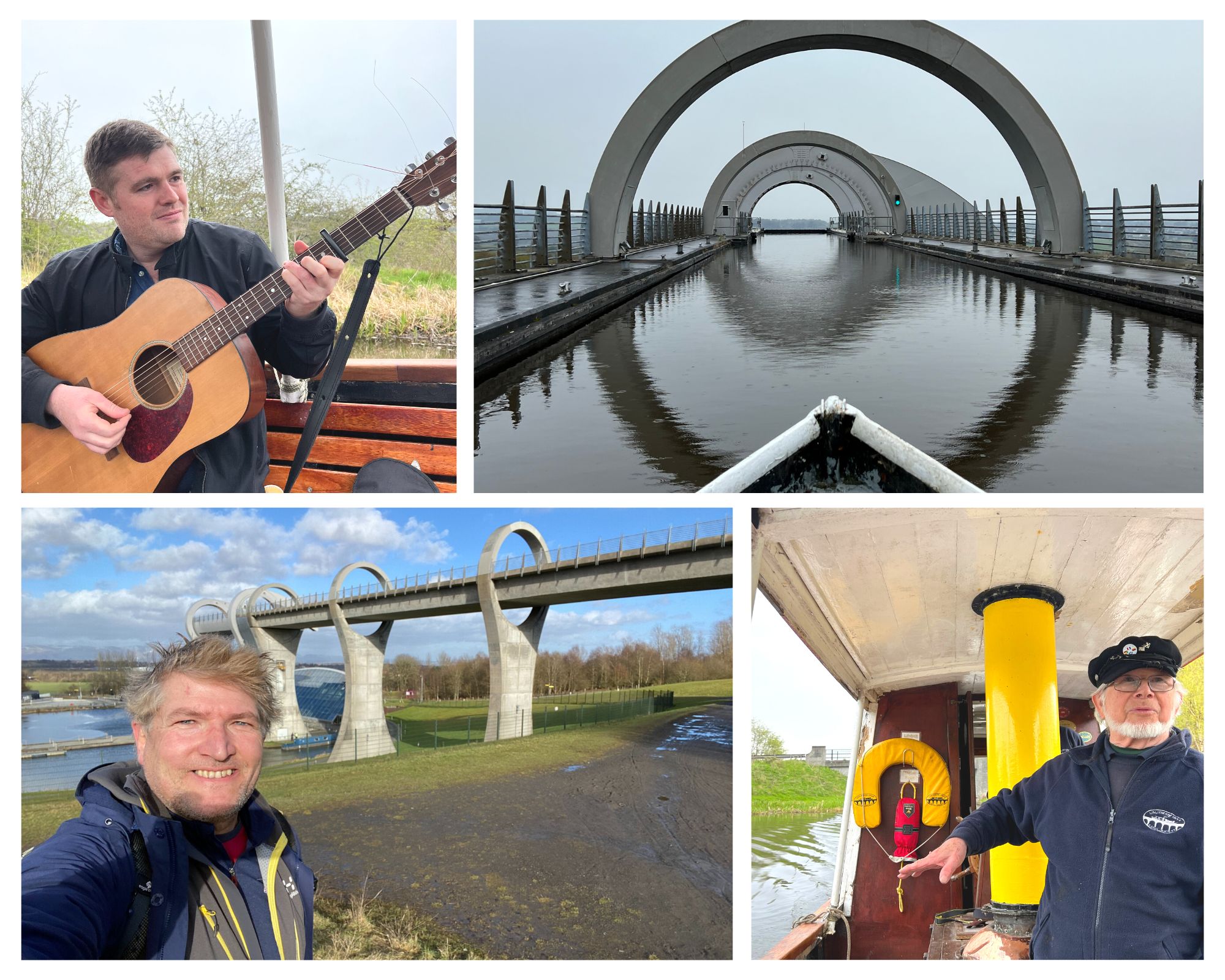 I join the John Muir Way (Falkirk is great walking country), which handily runs back along the Union Canal and then continues on east into Callendar House and Park. Callendar Park is up there with any urban park in Scotland, a lush green lung laced with walkways and cycle routes. It's got a wonderfully unique attraction as a Unesco World Heritage site runs right through it! I'm talking of the Antonine Wall. This large mound is not protected behind Perspex, so you can ramble around Roman history letting your imagination run wild. There are playparks and a new family Nature Play trail in this life-affirming 170-acre bucolic oasis.
The highlight of the park is, of course, Callendar House. This site was continually inhabited for centuries and swims in serious history. As I wander into its grandeur I'm walking with the ghosts of Bonnie Prince Charlie, Mary Queen of Scots and Oliver Cromwell. I delve too into the story of the town in the 'Falkirk: Crucible of the Revolution' exhibition and another exhibition that tells the colourful story of Callendar House. On the ground floor a glorious living legacy is the Georgian Kitchen, which Outlander fans may recognise as it starred in the TV series - it's still in working condition.
The weight of history hangs heavy in Callendar House in an intoxicating way. I find lighter relief in their tearoom, taking a table peering out over the park. They do their own homebaking right here and what baking it is! You can pop in for a proper coffee and a slice of your favourite cake, or really go for it with an afternoon tea blessed with proper fresh scones, myriad cakes and delicious sandwiches like chicken laced with a lemon thyme dressing with rocket leaves on malted brown bread, All of it is utterly delicious.
Callendar House is very much the gift that keeps giving as they host an ever-changing impressive array of temporary exhibitions. From 20 May– 10 September, the work of Barbara Rae, the celebrated Scottish painter and printmaker, is the new star attraction. For more 'Secrets hiding in plain sight' check out the engaging Callander House video.  
My base on my latest trip to Falkirk is an old favourite I know well, the Macdonald Inchyra Hotel & Spa. It's ideal as it sports a restaurant serving proper steaks and the delicious venison loin dish I savoured for dinner. They also have a swimming pool for some downtime after a hard day sightseeing.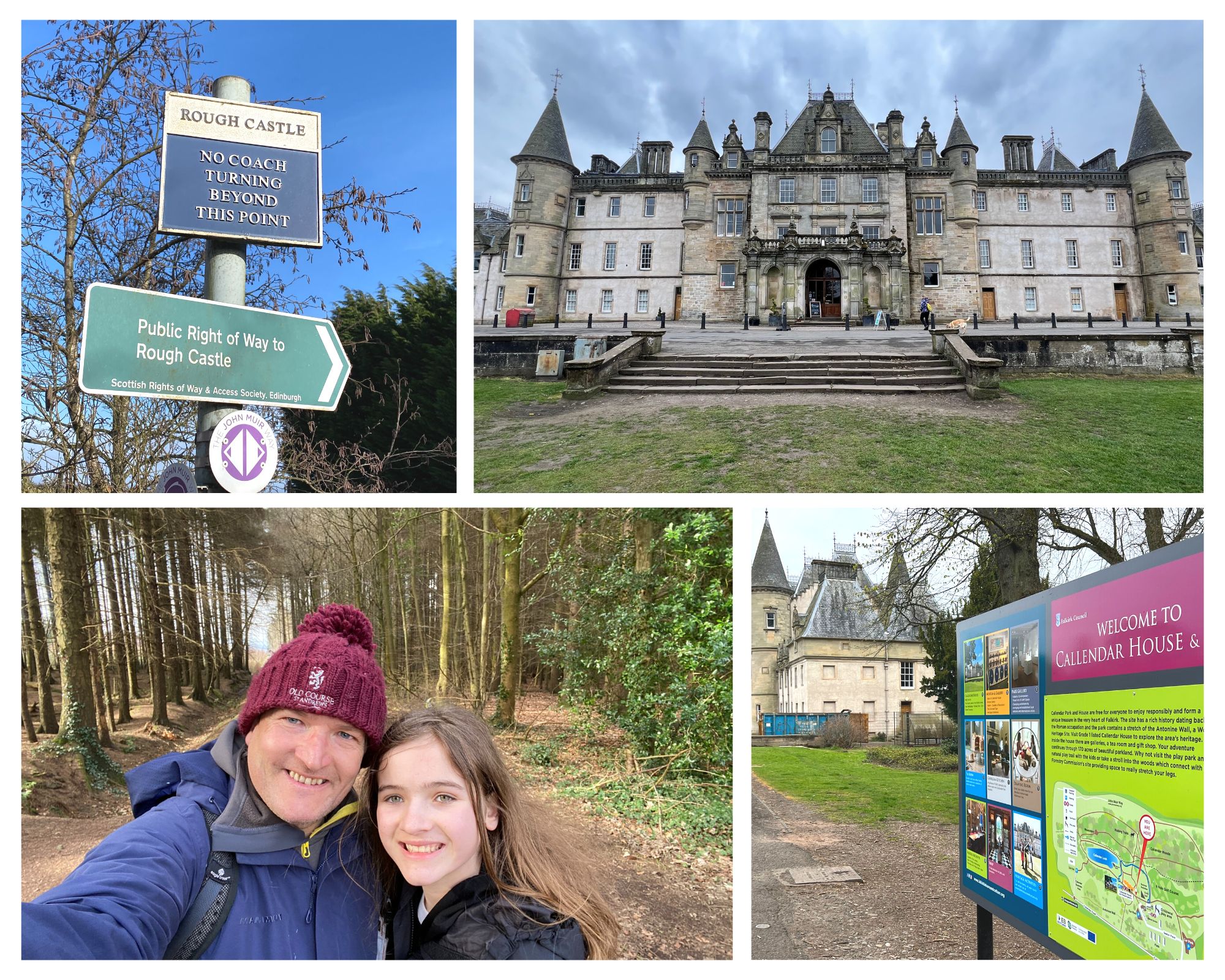 My second day starts in some style visiting the two most dramatic residents of Falkirk in a superb urban park. I'm talking, of course about The Kelpies, The Helix, one of Scotland's top 10 visitor attractions, and a five star one at that. The world's largest equine-based statues are a sight to behold rearing up above the M9 motorway to a height of 30m. They are the work of artist Andy Scott. Remarkably - although the steel took a year to forge - they were assembled in a mere 90 days.
Guide Kirstie Connell leads me on one of the excellent tours they offer inside. As we enter she reveals they both have names – Duke is the head down kelpie and Baron is the head up one. It's fascinating getting inside and seeing how the structure is woven together, an epic piece of engineering that ties into the days when the Carron Company was the world's largest iron works and the Falkirk region was alive with foundries.
Kirstie also shares her love for The Helix ecopark, which recently moved on from bronze Green Tourism award to a much-coveted gold. She tells me, "you can park for free, but we also encourage visitors to walk here, cycle or take public transport. Everyone is welcome to come enjoy this free park." She talks too about the fresh local produce in the café, which I then savour with a delicious lunch, and about the loyalty card that snares free drinks. We also talk about how accessible The Helix is with its 27km of traffic-free, wheelchair-friendly, paths for walking, running, or cycling, as well as e-bikes, changing places space and an accessible play area. Check out the 'Secrets hiding in plain sight' promo video for more.
I'm impressed with the commitment to going green I find throughout the Falkirk area. Cllr Paul Garner, Falkirk Council's spokesperson for Economic Development and Tourism, explains: "The story of Helix Park is founded in the ideals of sustainability, biodiversity, and community. Achieving the Green Tourism Gold Award is, for us, a vindication of our attempts to be mindful of these in everything we do. Given research shows that 90% of consumers look to sustainable options when traveling, we are especially proud to have achieved Gold Green Tourism Award within ten years of operating. We look forward to continuing our journey and improving on our Green Tourism score."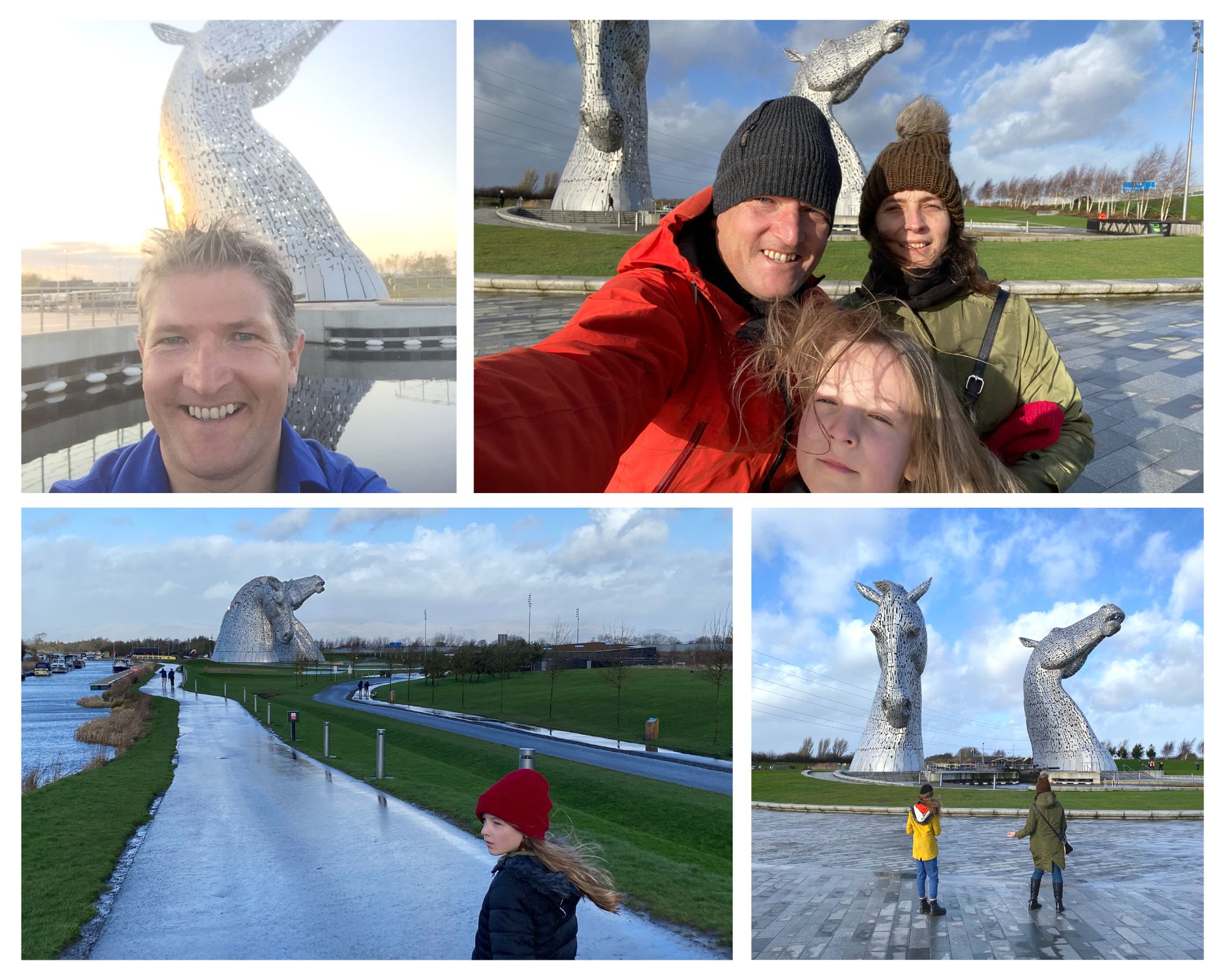 You could spend all your time in Falkirk at the slew of world-class visitor attractions that surround the town centre, You would have a fabulous time, but you would miss out on a town centre that is being revitalised. I meet local historian, Ian Scott, who has a real passion not just for the town's unique and beguiling history, but also how Falkirk is developing today. We meet at Falkirk Steeple, an apt place to meet as it is, "about to re-open to the people of Falkirk for the first time in two hundred years," reveals Ian.
Ian leads me up the stone spiral staircase and back through the centuries. I eke into the old jail cells, complete with original graffiti etched into the timber and what Ian reckons is a basic game that prisoners would have played to while away the cold, dark days in captivity.
Falkirk Steeple is not alone in offering a window into Falkirk's past. Ian and I walk through the historic churchyard to the 'Tattie Kirk'. Here we see the dramatic legacies of the two pivotal battles of Falkirk: William Wallace's forces were defeated here in 1298, and the Jacobites enjoyed one of their last victories back in 1746. The graves make sombre, dramatic testaments to the lives lost. The most dramatic is of Sir John de Graham of Dundaff , Wallace's right hand man, who was killed during the battle. Burns was moved at this spot and his verse has been etched into the stone by the tomb.
Wandering Falkirk's old streets Ian doesn't need to convince me that Falkirk is blessed with layers of fascinating history. I can see and feel its ghosts echoing all around in the old world - and the more recent art deco - buildings that grace the town centre.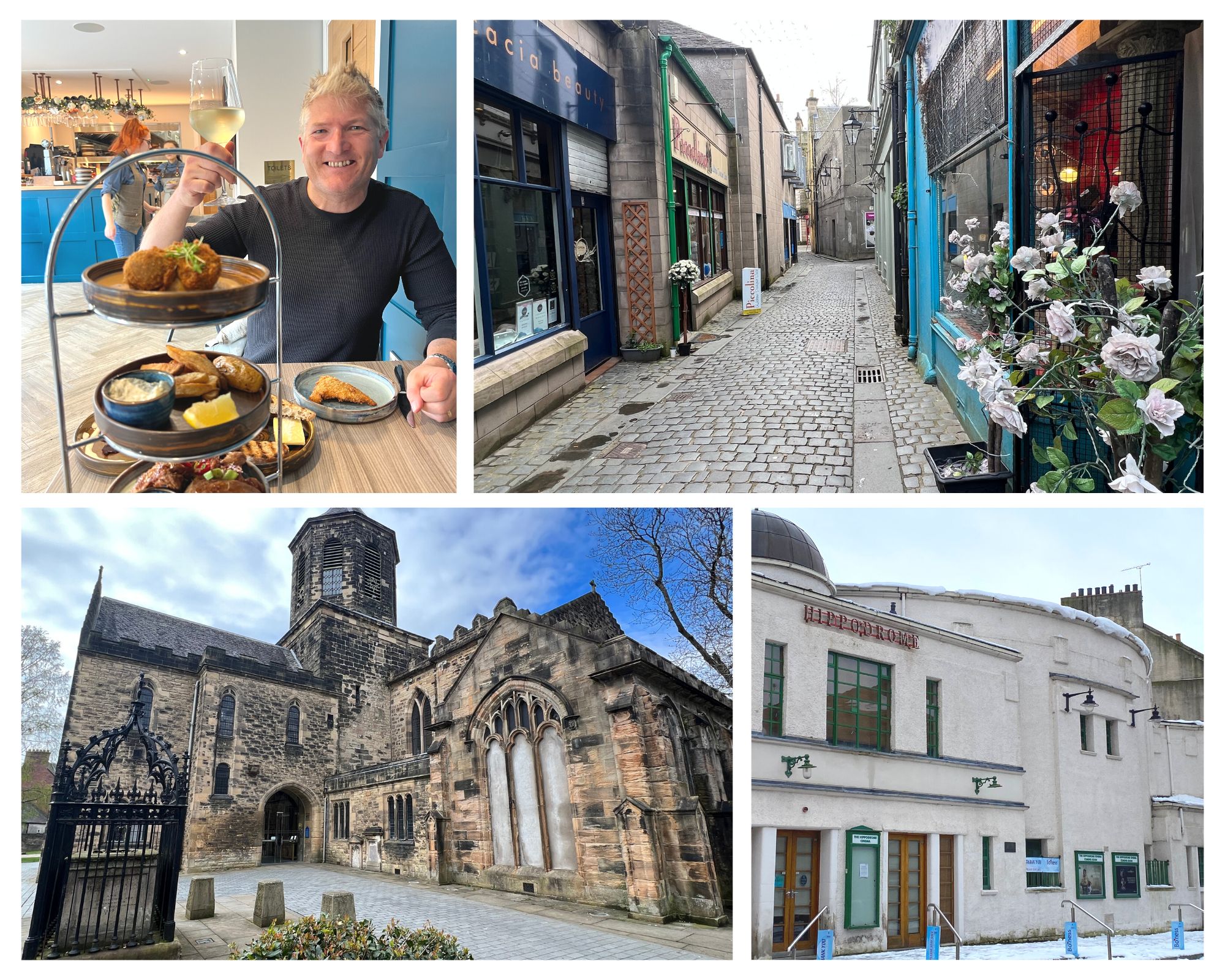 For all that the old entrances, I find plenty of new life and optimism too. I leave Ian and continue with my friend Stewart Norton, who was born in Falkirk, and has joined me to see how his town has changed. "There seems to be a real buzz about Falkirk today with wee independent shops and cafés springing up. It's great to see all this new life," he smiles as we wander the Newmarket, which is in the midst of a massive revamp.
We find more new life at Christie's. This bright new 'Scottish tapas' restaurant is part of the new Falkirk wave. We tuck into chicken wings marinated in Falkirk's Irn Bru (A.G. Barr hail from Falkirk), haggis bon bons and king scallops spiced with chorizo. The new face of Falkirk tastes delicious. My mind and heart is full of images of Callander Park and its remarkable house, of The Kelpies and their impressive The Helix home. I text my friend from London and tell him he too must head to Falkirk, Scotland's town at the heart of everything.
Robin McKelvie - Award-winning travel writer & broadcaster 
www.instagram.com/travelwriterinakilt
* All images copyright: Robin McKelvie