Helix 09 February 2023
The Helix picks up best in Scotland for a 'Great Day Out' at national tourism awards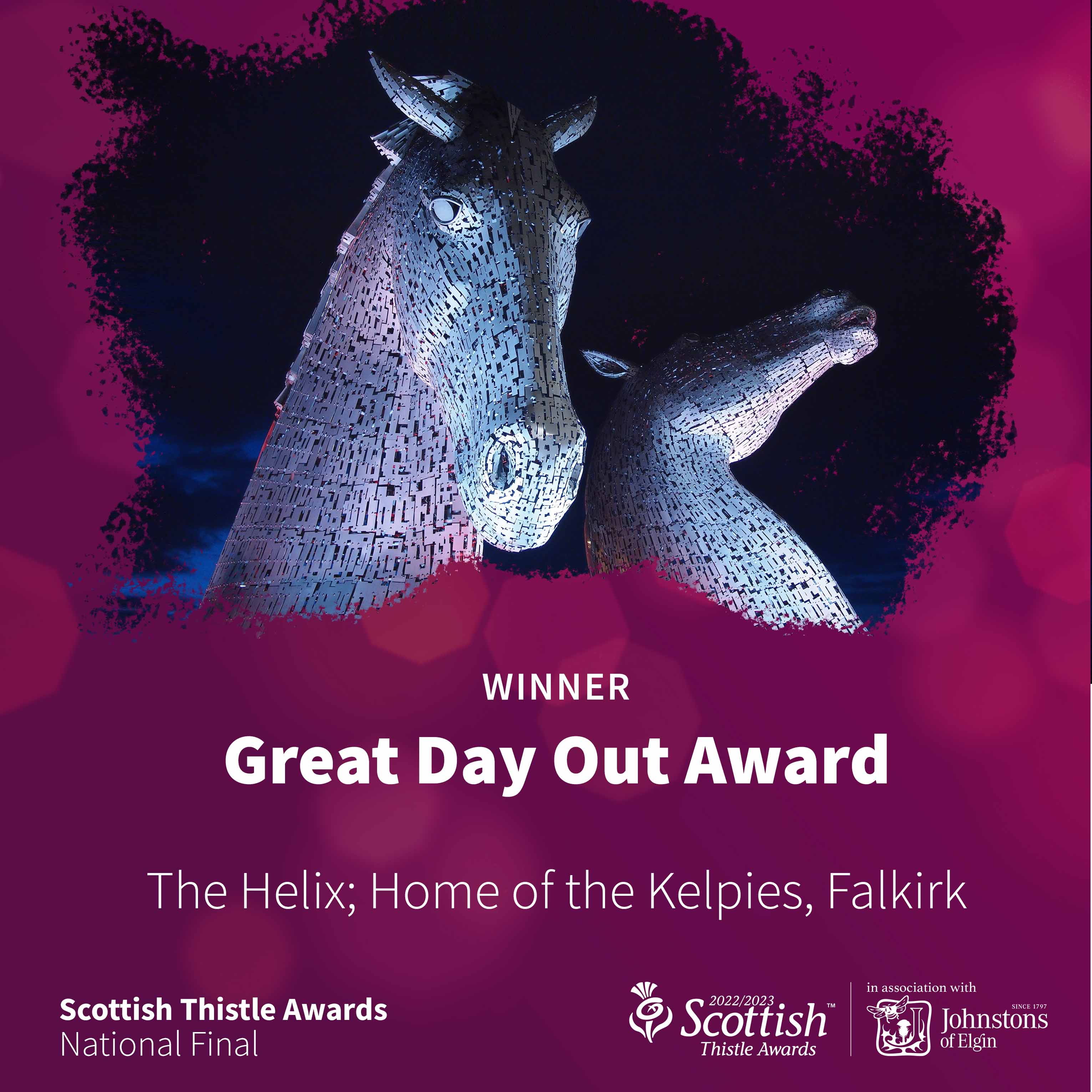 The Helix, Home of The Kelpies, has won the 'Great Day Out' Award at this year's Scottish Thistle National Awards, organised by Visit Scotland.
One of Scotland's top five-star visitor attractions, The Helix won the accolade at last night's event at the Edinburgh International Conference Centre (EICC) beating off four other top Scottish attractions.
This national award win follows on from The Helix's Scottish Thistle Regional Award win for Best Visitor Attraction Experience in November 2022.
The Scottish Thistle awards showcase the very best of Scotland's tourism sector, helping to ensure that tourism and the individuals who work in the industry are recognised for the positive impact they bring to the country and communities. Readers of The Sun newspaper voted for this particular award.
The Helix is an outdoor recreational five-star attraction with international Green Flag accreditation. It connects and engages with 17 communities through an extensive accessible path network for walking and cycling, stretching over 27km.
Facilities include a lagoon, splash-play, adventure play zone, and visitor centre featuring a gift shop, an exhibition and café. The Helix is also home to The Kelpies, designed by Andy Scott, which are the world's largest equine sculptures.
This year, the awards had a particular focus on recognising those who have worked tirelessly in the face of the pandemic to create world-class destinations and visitor experiences and acknowledging those who have embraced responsible tourism best practices by addressing the four key areas of the low-carbon economy, inclusivity, thriving communities and Scotland's natural and cultural heritage.
Councillor Paul Garner, Falkirk Council spokesperson for Economic Development said: "The Helix is a great location for many different activities and is enjoyed by hundreds of thousands of local residents and visitors alike every year. Winning this national award shows how hard staff are working to give everyone the best possible experience and maintain the very high standards to receive this accolade."
Lesley O'Hare, Cultural Services Manager at Falkirk Council, said: "As we emerge from the effects of the pandemic, the team at The Helix has remained committed to providing a world-class visitor destination, ensuring the local community and visitors from further afield felt welcome, felt safe and enjoyed a five-star experience. I am delighted the team has been acknowledged for their exemplary customer service and commitment to customer satisfaction, providing visitors with an enjoyable, affordable day out all year round."
The four attractions that were also shortlisted were: Camera Obscura and World of Illusions, Edinburgh, The Devil's Porridge Museum, Eastriggs, Macduff Marine Aquarium & Aberdeenshire Council, Macduff, and Shetland Seabird Tours, The Noss Boat, Lerwick.