Volunteering 02 October 2019
Celebrating our volunteers - FCT's first ever Volunteer Social!
Here at Falkirk Community Trust we truly appreciate all that our hard-working and dedicated volunteers do for the community of Falkirk, so this year we wanted to make sure that they knew that too!
On the 25th of September our volunteers joined us for our first ever Volunteer Social, which consisted of a relaxed day of team building and socialising at Callendar Park and House. Volunteers set off in teams on a treasure hunt through the grounds of Callendar Park, discovering the secrets of Falkirk's past and present, and worked up an appetite for afternoon tea in the beautiful Tearooms at Callendar House. We were very fortunate that the weather behaved and the rain held off until the afternoon! 
Volunteers were joined for afternoon tea by members of staff from the Libraries, Care Words project, Great Place, and the Events Team.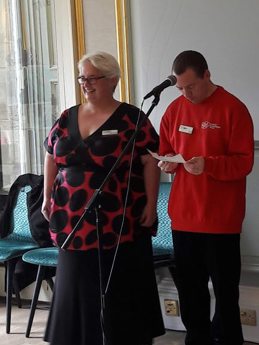 Neil Brown, General Manager, kicked off the afternoon speeches by thanking all of our volunteers for the time that they give and highlighting the impact that these individuals have had on Falkirk Community Trust and the community of Falkirk.
Neil's speech was followed by two of our volunteers: David, who has been involved with several of our volunteering projects across the Trust, and Tony who has volunteered with the Care Words project, part of Falkirk Libraries, since its start in October 2018. Both individuals shared with us heart-warming speeches that truly captured the spirit of volunteering here at Falkirk Community Trust. 
"[I liked] meeting other volunteers from other sectors. I wasn't aware there were so many interesting things going on!" - Cathie M.
A huge congratulation to the winners of the treasure hunt, who were presented with a choice of prize tickets to this year's pantomime Aladdin and Fire & Light (tickets to go on sale the week commencing 7 October 2019). We hope you will thoroughly enjoy the performances and the displays in Helix Park!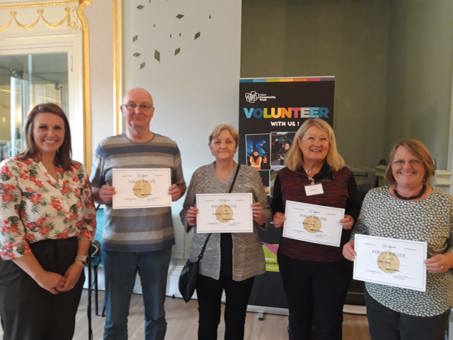 From left to right: Tamara Horton, Volunteer Coordinator with the winning team Highlanders: Tony, Eleanor, Brenda, and Jane.
Jane, one of our winners, said: "I enjoyed taking part in the treasure hunt and was refreshed to discover that a team who had met for the first time 2 [minutes] earlier worked well together so quickly and had fun. It was rewarding to meet other volunteers and discover what they did. The speeches were interesting too. [It] is good to be appreciated."
We can safely say that this year's event was a huge success thanks to all involved - especially our volunteers! Falkirk Community Trust aims to make this an annual event and hope that next year we will see both familiar and new faces! Again, thank you to all of our volunteers for all of your hard work - you are most appreciated!
To find out how you can get involved in volunteering with Falkirk Community Trust, visit our Volunteering page and browse through our current opportunities.