Volunteering 05 November 2019
Glad to Help! Gladiators Volunteers on to Pastures New
We could not be more grateful to our small legion of volunteer gallery invigilators, who joined the staff at Callendar House between May and October 2019 for Falkirk Community Trust's flagship summer exhibition Gladiators: A Cemetery of Secrets.
Their exceptional interpretation and engagement with the objects and human remains on display was integral to the exciting, informative, and fascinating visitor experience -  enjoyed by more than 2000 attendees from Falkirk, across Scotland, and further afield - offered during this exhibition's six-month loan from the Jorvik Centre.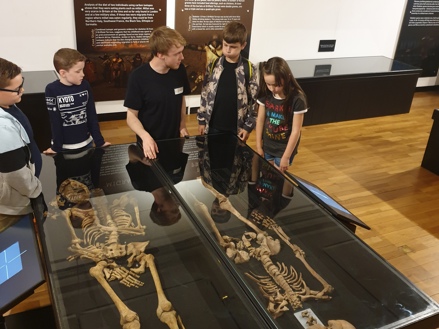 Whether wondering "where the brain goes" with a class of P4s, debating tiger-bites vs arrow wounds with archaeology professors from Washington DC, or sword-fighting with the local youth theatre, volunteering with Gladiators has, our volunteers say, been a brilliant experience.
 Since ending their tenure as invigilators they have been involved with a wide range of further opportunities, from community building and engagement via the Great Place project and other Trust initiatives, to volunteering in Falkirk's libraries and work within local societies, higher study at some of the UK's finest universities, and roles in the American and the Scottish heritage and tourism sector. We look forward to seeing where their next steps will take them, and to our next exhibition volunteers!
If you would like to find out more about volunteering with Falkirk Community Trust, please visit our Volunteering page.