Discover our Ceramicists featured at Artful.
Mindful Atelier - Gökce Ozer Eröz
I am Gökce (pronounced gurk-che), the founder and owner of Mindful Atelier.
I have been a passionate ceramic artist for 11 years, I am also a meditation & mindfulness practitioner, qualified yoga instructor and an animal lover.
My ceramics experience is the result of many years of training and study as well as extensive travel.
When I combined the result of my meditation and mindfulness practices with my academic research, my works turned into a reflection of positivism, stillness and peacefulness with organic shapes and soft colours.
My aim is to make you feel the art and inspire you with good feeling every time you reach for the mug, plate, cup or other items. Mindful Atelier products are handmade with dedicated craftsmanship, using the best materials possible."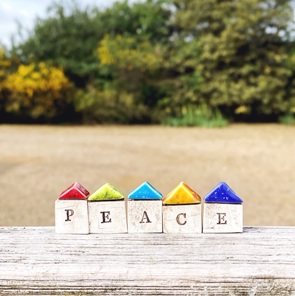 Emma Birts
Emma Birts was born in London in 1979 before moving to Bath in 1989. An Art Foundation course at the UWE in Bristol was followed by a BA(Hons) in Graphic Design from Bournemouth Art Institute. Emma now lives in St Werburghs, Bristol with her family & dog – her studio and kiln are in the countryside near Bath. While indulging a passion for ceramics she is also the owner and framer at Rostra Gallery.
Inspired by wildlife and nature; bears feature heavily in her work – often accompanied by unlikely companions or objects. Emma's work is sold in many galleries in the UK and collected around the world, her bears even travelling to a customer in Alaska. Each piece is individually sculpted, painted and glazed going through at least two kiln firings.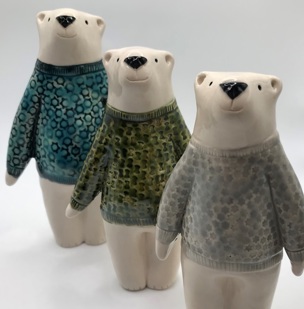 Sarah Koetsier
"I am a ceramicist based in North East Fife, making a range of hand thrown functional and decorative porcelain pots. My work focuses on lively surface decoration, clean designs, and the contrast of textures and colours. Each pot is unique and decorated with coloured underglazes, underglaze pencils and oxides.
I studied Contemporary Crafts at Falmouth University with a focus on ceramics and glass and have continued working with ceramics since graduating in 2016. Although not born in the UK I would call it home having lived here for nearly 15 years. I was born in Canada but moved around as a child and eventually settled in Scotland in 2017."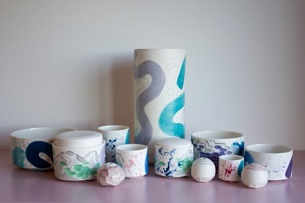 Karen Risby
Karen Risby creates contemporary wall hangings, tiles and porcelain accessories. Her work is an extension of her love of drawing, exploring pattern and line using both brushwork and sgraffito, a process that involves scratching back into the painted surface. She takes inspiration from nature and the rural environment she lives in, birds are a prominent feature of her work often interwoven with landscapes and decorative motifs.
All of Karen's work is handmade and hand painted with ceramic stains, underglaze and oxides. After the bisque firing the work is glazed with a lead-free transparent glaze and fired to stoneware. Some work then has gold lustre applied and undergoes a third and final firing.
Originally from London, Karen graduated from Camberwell College of Art in 1994 then lived and worked in South London for many years before moving to Suffolk to set up her current ceramic studio in 2010.
Ceri White
From her studio in Perth's Creative Exchange, Ceri White produces a confectionery of contemporary ceramics for the home. She specialises in hand-thrown earthenware vessels and planters, along- side which she has developed a range of delightful interior accessories including collectable tiny house sculptures and miniature vases. Every piece is unique and made using traditional pottery techniques, from the ball of clay thrown on a wheel, through various decorating processes and two kiln firings, to the finished item.
Ceri is art school trained with many years of studio experience and continues to be influenced by a 1970's suburban upbringing, the minutiae of nature, a lifetime habit of doodling and collecting, and a love and understanding of colour and pattern.