Other artists featured at Artful -
Howard Asquith
Trained at Wakefield and Leicester School of Art, Asquith was gripped by the study of colour from an early stage. He was taught by influential tutors Harry Thubron, Patrick Oliver and Gyorgy Gordon, and his work shows an extraordinary sensitivity to the interaction of colours and forms. He believes in taking his ideas in new directions, exploring possibilities and finds the dynamics of colour a constant source of surprise. The intriguing possibility of a flat piece of paper appearing to contain an infinite distance.

Lesley Banks
"I graduated from the Drawing and Painting Dept of Glasgow School of Art, since then I have continued to paint narratives of everyday life.
I tend to work in themes across a number of paintings - a way of working which was helpful during my time as Artist in Residence at Edinburgh Zoo and more recently with Scottish Canals.

Two of the paintings 'Reflections' and 'The Card Game' are inspired by family visits to Lochend Chalets at Lake of Menteith. I am drawn by the ability of a reflective surface to create an illusion of an alternative reality. The artist is often the creator rather than the subject; however, I am present in both these paintings as a shadowy reflection."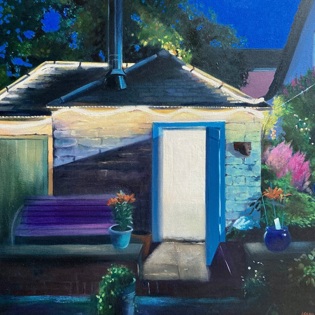 Lesley Anne Derks
"I graduated from Glasgow School of Art in 1999 with a BA (hons) Fine Art Drawing and Painting.
My early work was inspired by the lights of the Grangemouth petrochemical complex and this influence led me to painting predominantly cityscapes at night. More recently I have begun to explore lights in a different way, focusing on interiors, in particular chandeliers and the different lights they can convey.
I have exhibited extensively throughout the UK and abroad with my work appearing in leading magazines and newspapers such as The Strand Magazine, Artists and Illustrators, Fine Art Collector and The Scotsman. I regularly work to commission and have produced work for Scottish Power and the Royal Navy."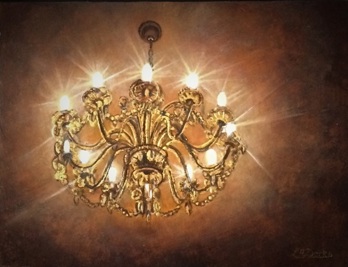 Brita Granström
Brita Granström was born in Sweden but has lived in the UK since 1992. She studied for a 5-year MA in Fine and Graphic Arts at Konstfack in Stockholm. Her Nordic roots are evident in her paintings, which are made on location, both indoors and outdoors in all weathers. At time playful, her work nevertheless has a pensive, sometimes haunting quality that touches on something beyond the narrative nature of the subject.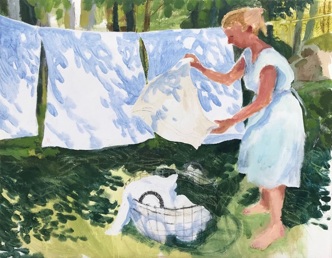 Catherine King
Catherine King is a graduate of Duncan of Jordanstone Dundee in drawing and painting. She has work exhibited in RSA SSA, VAS, PAI, RGI. Her most recent solo exhibitions in Glasgow art club 2022, and 2019 in Stirling Smith Art Gallery.
Her practice is inspired by a connection with Place, family and the passage of Time. Working from life, both in the studio and plein air.
In recent periods of lockdown Catherine has taken herself on virtual holidays to the remote corners of Scotland, the outer Hebrides these works have been inspired by re-visiting sketchbooks, photos and small works made plein air in those locations.
Catherine is and Director and Secretary of Fife (Dunfermline) printmakers. She is a part time Lecturer in Contemporary Art specialising in Painting and Printmaking at Forth Valley College. Catherine is an Artist member of Glasgow Art Club and SSA.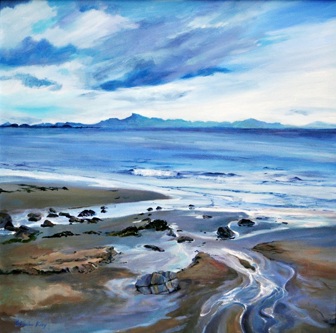 Tessa Asquith Lamb
Tessa Asquith-Lamb was educated at Edinburgh College of Art graduating with an MA (Hons) in Fine Art in 1998. She works mainly in etching, painting and paper cuts.
Her works are full of optimism, detail, and narrative, and show her love of collecting 19th century folk art and sentimental objects alongside lyrical arrangements often including her ever present fox muse, Reynard.
Etched onto zinc plates and printed by hand in very limited editions her etchings are full of details to be discovered, symbolism and quiet power.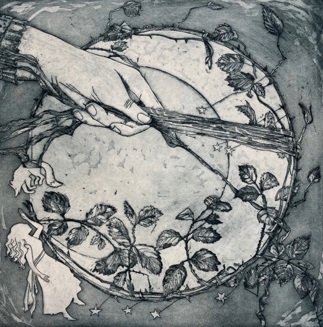 Mick Manning
Mick Manning grew up in Haworth and studied Art & Design at Bradford College of Art and The University of Northumbria before a 3-year MA in illustration at the Royal College of Art (1984 – 1987). At the RCA his personal tutors included John Norris Wood, Quentin Blake, and Shelia Robinson. Mick's work is informed, although not limited by, natural history encounters made both in Northumberland, and, in Sweden where he spends part of every year. His recent book Near the Bear North (Design for Today) showcases his interest in stencil prints while The Brontes (Watts), a picture book made in collaboration with his wife (Brita Granström), reflect a yearning for his boyhood.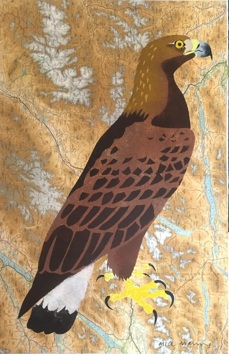 Hilke MacIntyre
Hilke MacIntyre is a contemporary artist working in printmaking, painting and ceramics. Her simplified figurative style shows her enjoyment of colour, pattern, bold shapes, nature and daily life on the Scottish East Coast. Main influences are indigenous/folk art and art & design movements in the 20th century. The direct visual impact of a handmade piece is essential in her art. Hilke was born in Germany near the Danish border and studied Architecture at the College for Art & Design in Kiel. After a few years working for architects in Germany and Britain she moved to Scotland in 1995. There she started printmaking at the Edinburgh Printmakers alongside painting and experimenting with pictures in clay from which her ceramic reliefs developed. Since then she has practised as a professional artist and currently lives and works in rural Fife near St Andrews. Her work is widely exhibited in galleries throughout Britain and her woodcuts and linocuts have been used for numerous illustrations.

Diane Tulloch
Memory of places visited, weathering effects, light, colour, pattern and textures observed in the natural environment influence and inform my work. The resulting artworks suggest place, mood and process and are built up with raw pigment, paint, sand, plaster and other mixed media. The sense that there are hidden layers and a feeling of evolution interests me. Layers are created which can be scraped back to uncover previous marks and workings. I often use material gathered from places I have visited and especially love the variety of colour and texture of sand, collected from the Scottish Islands and beaches.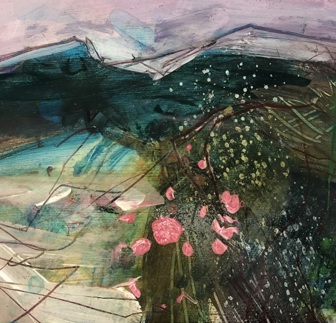 Jade Stout
"During lockdown I explored many local places which have rebalanced my creative practice. The North of Scotland, with its empty beauty and changeable weather, hugely inspires me. However, I now combine these memories with recalls from local walks. The curve of the seascape might be remembered from Orkney or Shetland and my colour palette might be taken from the Firth of Forth or the Ayrshire coast. I start my process with a glint of an idea, using sketchbooks to explore and refine. I want to share the immersive calm and awe that I feel when in the Scottish landscape."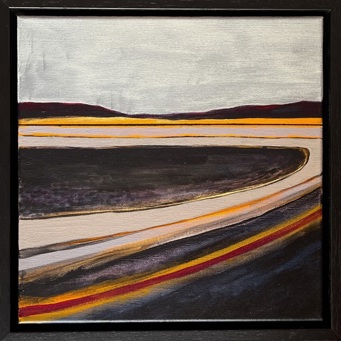 Morag Stevenson
"Born in Aberdeen, I studied Drawing and Painting at Edinburgh College of art. I worked in art education for almost 40 years, but I now paint full time in my studio in Linlithgow where I have lived for over 30 years. I enjoy painting interior scenes and still life and as a keen gardener and allotment holder, flowers, and plants. There is an element of imagination as well as contrasting colour and pattern which also play a major part of my work. I have exhibited in numerous galleries throughout Scotland as well as the S.W.A, London, The Paisley Art Institute, Aberdeen Artists Society and the R.S.W. In 2020 I was given an award in the Society of Women Artists exhibition [S.W.A] and elected to Associate member in 2022."